How to Clean Marble?
Hello, we will provide you with sufficient information to those who have suffered from this situation.
How to clean blackened marble,
How to clean a darkened marble tombstone
How to clean yellowing marble,
How to clean burnt marble,
How to clean bath marble,
How to clean marble floor,
How to clean fireplace marble,
How to clean marble table,
How to clean Marble coffee table,
How to clean Marble countertops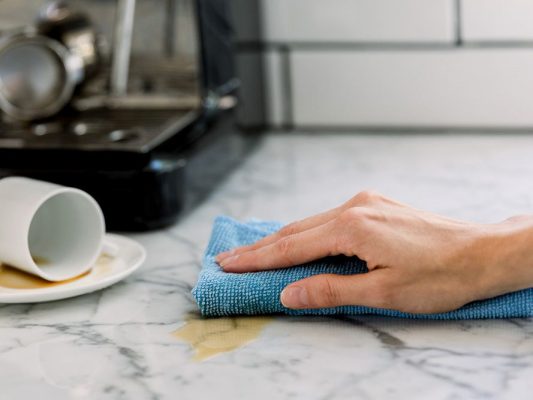 Since marble is a natural raw material source, it requires special care. Contrary to its heavy and hard appearance, you should not use an acid-based surface cleaner for marble that is sensitive to cleaning. Instead of an ordinary cleaning material, you should use surface cleaners that will not deform the marble.
You can easily wipe the dirty surface with a clean water and cloth. The usually complained situation is the formation of "water rings" or more commonly known as "water stains" on the surface of the marble, and these formed rings do not come off. This is why the wrong cleaners are chosen and the deformed area is made worse.

In such cases, it will be a healthier result to talk to the company of the marble purchased and to see an expert team. Because marble companies, when faced with such situations, provide professional cleaning. They can erase the unwanted stains on the surface by applying the marble wiping process. After the wiping process is do, they polish the area that has become a raw product. Unfortunately, cleaning products used in homes are insufficient to achieve the desired result.

Although it is said that there is no acid in the product, a small amount of acid will damage the marble again, so it will spoil the appearance of the marble and visually sting you. The cleaning material that we call Arabic soap, known among the people, is the first way to apply. After making the Arabian soap homogeneous in water, applying it to the dirty area, cleaning is do. It works for a short time, but unfortunately it cannot deliver the performance of a team.

Another known method is cleaning with bar soap and water. Dissolve the soap in warm water and apply to the area. Although such cleaning suggestions partially work, they lose their repeated function over time and scratch your marble. Routine operations are of course the solution to keeping your marble in its original texture. The secret of the marbles, which have not lost their first appearance despite the passage of years, is that they go through a certain routine cleaning stage and be very meticulous in their use.
You can click for more  Marble and  Travertine types