USE OF TRAVERTINE STONE IN THE GARDEN
Travertine, which can also be used in gardens with its solid and durable aspect, brings a fresh image in your garden. It exhibits a different stance in your garden with its perforated structure. It is very suitable for use in areas such as poolside due to its heat absorption effect.
It is an alloy formed by interacting with the calcium carbonate in the water, which is found near water sources with travertine. They have become the focus of preference with their perforated structure and various colors. With its pure white color, light beige and brown colors, you can enjoy the autumn weather or summer in the gardens. In this article, we will learn the location of travertine while landscaping.
First of all, we will explain where we can use which tone is used where, how the care of travertine should be.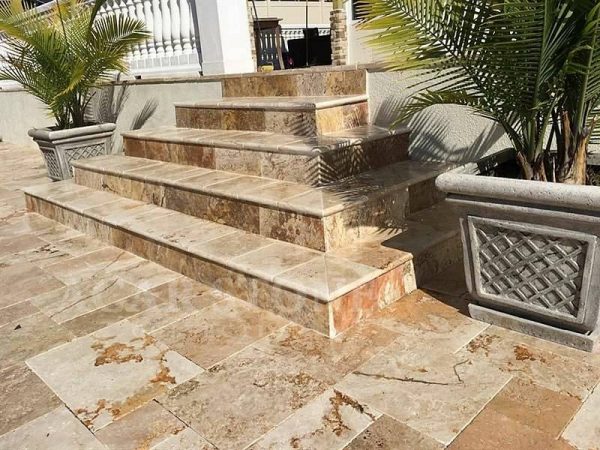 Where can I use travertine? How should it be maintained?

Travertine absorbs heat, that is, keeps the environment warm. However, travertine is known as a cold stone in the opposite direction. Even on slippery ground, it does not slip due to its structure and you can move safely. Therefore, you can safely use it by the pool.
Travertine should definitely be in the landscape of your garden because it manages to create a clean white color and a warm atmosphere with its beige color and soft air brown tone. You can also consider a great walking path for your garden. We are sure that you will not regret if you use all of these travertine materials.
Travertine Color Chart

It comes in different colors such as cream, red, silver, and yellow besides the pure white, beige and brown we always talk about. It preserves its colors for a long time with the polishing method. It gives life to your garden with its visual feast colors.
STRENGTH
Travertine is among the stones that come from the past, such as marble. It dates back to BC and was used by the Egyptian dynasty during the construction phase of the building. Wouldn't you like to bring the ancient Egyptian and Greek air to your garden? You can blow your mind with the architecture that makes a difference.
Travertines, which we know to be actively mined in the Mediterranean region, are durable, eye-pleasing raw materials and also a building material.
Travertine Care

It is not difficult to maintain. With its porous structure, any liquid can get in between, but we can prevent this with simple leak tests. You can polish it and extend its life. Thanks to the travertine stones that will be used in your garden for years, both your budget and your eyes will be prosperous.
Travertine Types You Can Find Here